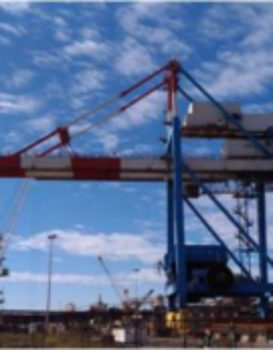 KOCKS KRANE RAW MATERIAL SHIPUNLOADER CRANE
Product  Description
Kocks krane Raw Material shipunloader crane.
Kock Krane unloader is a shipunloader assembled in the area of the Marime Facilities plant. The machine is new because it never started service. The shipuloader had to be used to unload raw materials used by the Blast Furnace and Coke oven plant.
Specifications
TECHNICAL FEATURES
Building year 2008 – 2011
Supplier Kocks Krane
TECHNICAL DATA
rail gauge 18,5 m
length over buffers 30 m
max. outreach from waterside rail (grab) 34 m
total outreach waterside rail 36,7 m
max. outreach from landside rail "- 2,0 m"
lifting height above rail to bottom closed grab 21 m ~
lifting height above rail to bottom open grab 19 m
total lifting range 40 m max.
total practical runway 350 m approx.
rail trolley high 31,3 m
Click Here
for more specifications.
Request a Quote